Need Wholesale Price? Contact us!
Member's Mark™ Ultra Triple Action Joint Health* is a combination of three important nutrients that help promote joint, bone, and cartilage health.* Type II Collagen (UC-II®) is the same protein found in healthy cartilage. Using a patented stabilization process, the cartilage-derived type II collagen is preserved intact. Hyaluronic Acid exists naturally in your joints. Boron helps maintain healthy vitamin D, calcium, and magnesium levels for healthier bones.* Member's Mark™ Ultra Triple Action Joint Health* works differently than glucosamine and chondroitin supplements. Take just one tiny pill daily instead of two large glucosamine and chondroitin tablets.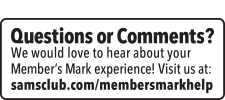 *These statements have not been evaluated by the Food and Drug Administration. This product is not intended to diagnose, treat, cure, or prevent any disease.
‡ This product is not manufactured or distributed by Reckitt Benckiser LLC, owner of the registered trademark Move Free Ultra®. UC-II® is a registered trademark of InterHealth N.I. UC-II® brand collagen with undenatured type II collagen (U.S. Patents 7,846,487, 7,083,820 and EPO Patent EP1435906B1; Canadian patent CA 2459981C; and Japanese Patent JP 4800574B2).